Ramadan is the month most awaited by Muslims in the world, as well as in Indonesia. Ahead of Ramadan, Indonesian people do a lot of preparation. To further understand, we did research that focused on what preparations Indonesian people do for Ramadan and Eid.
Preparations and behavior in Ramadan
Ramadan and Eid are the most awaited months for Muslims in the world. In Indonesia, many Muslims prepare for Ramadan and Eid. According to research, 63.6% of people shop for food and drinks for stock during the month of Ramadan and Eid. This is shown by the increasing number of Indonesian e-commerce transactions for FMCG products which increased by 2.1X during Ramadan. In addition to increased purchases for various FMCG products. 36.3% of people are looking for inspiration for iftar and sahur menus in preparation for Ramadan.
Activities in carrying out Ramadan in each country are different, including Indonesia. In Indonesia, 81,8% of people always carry out "Break the fast Together" activities during Ramadan. However, during the pandemic, "Break the fast Together" activities have become more difficult. So, 54.5% of Indonesians choose to play social media as entertainment while waiting for iftar time.
Before breaking the fast, many people are looking for food and drinks to break their fast. 55.4% of Indonesians choose "Gorengan" as their favorite food for breaking their fast, and 77.2% of people choose fruit ice as their favorite drink for iftar. Besides fruit ice, 60.6% chose mineral water, and 39.4% chose tea as their favorite drink for iftar.
Before fasting, people do sahur or eat first to avoid excessive hunger while fasting. Based on research, as many as 51.5% of people choose to always cook for sahur while 42.2% of Indonesian people choose fast food for sahur.
In addition, everyone should try to keep the body fit while carrying out fasting and daily activities. Based on research, 63.6% of people choose to drink a lot of water at sahur and iftar to keep their body fit, and 36.4% of people choose to consume vitamins every day at iftar/sahur to keep their body fit.
Eid Hampers Preparation
The tradition of sharing hampers ahead of Eid can be found in almost every region of Indonesia. 33,3% of people in Indonesia always prepare hampers for Eid. For Lebaran Hampers, more than 90% of the people choose food and beverage packages as their choice for Eid hampers.
In addition, there are several considerations in purchasing Eid Hampers. 82.5% of people consider Eid Hampers that are affordable prices, 63% choose attractive packaging, and another 22.2% choose trusted brands.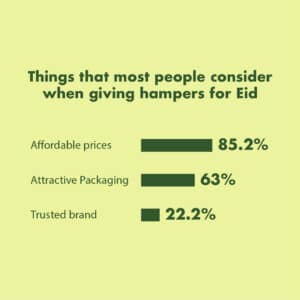 Conclusion
Every time before Ramadan and Eid, there is a lot of increase in public spending in terms of preparing food and beverage stocks, as well as other necessities. This increase is also not only in terms of shopping, but in various community activities such as breaking the fast together, sharing activities, and others. Sharing hampers during Eid is also one of the preparations to welcome Eid. Overall, it is clear that the increase in purchases will continue to occur in the time leading up to Ramadan and Eid because of the increased preparation and needs of the community ahead of Ramadan and Eid.