Instant noodle is a staple in Indonesian eating habits. We are spoiled with different varieties of instant noodles and they are really accessible as you can get it anywhere you go. To further understand the consumption behaviour, we did a research that focusing on consumption behaviour and their creation. 
Instant Noodle Consumption Behaviour
According to the Survey Sosial Ekonomi Nasional (SUSENAS) 2020, 92% of Indonesians or about 248.7 million people in Indonesia consume instant noodles. Interestingly, consumption by area shows that the top 3 consumers of instant noodles are Kalimantan, Java, and Sulawesi.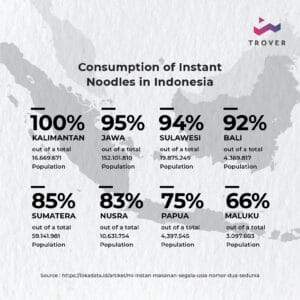 70.3% of the respondents say that they consume 1 pack of instant noodles per meal. The rest admitted that they consume 2 packs of instant noodles per meal. Interestingly, people tend to consume instant noodles at night time (83.8%). Although, 40.3% also admitted that they cook instant noodles when it's raining. 21.6% said that they cook instant noodles as a movie-watching companion and 18.9% consume instant noodles after school or work.
With the many variants of instant noodles, it is usually divided into two types of instant noodles – fried noodles and instant noodles soup. 51.4% of the respondents choose fried noodles while 48.6% choose instant noodles soup as their preferred type of instant noodles.
When it comes to brand, two instant noodles brand are the top-of-mind brands. 81.1% choose Indomie while 16.2% choose Mie Sedap.
Instant Noodle Creation
While instant noodles are often consumed as it is, 78.4% respondents actually like to be creative with their instant noodles. 43.2% admitted that they like trying making new menus with their instant noodles.
For inspiration, social media is their go-to-place to get new recipes to try. 40.5% of the inspiration comes from TikTok, followed by Instagram (10.8%) and YouTube (5.4%).
The respondents seem to prefer using ingredients that can easily be found in their kitchen in creating menus using instant noodles. 78.4% choose eggs as their favorite companion for their instant noodles. Meanwhile, 29.7% choose vegetable and rice, 28% choose meatball, and 21.6% choose sausage.
Conclusion
It is safe to say that instant noodles are still a big part of Indonesian eating habits. Due to its practicality and delicious taste, it is not surprising that many still choose instant noodles as their go-to when they need a quick fix for their hunger. It is also interesting to see that people are trying to be creative with their instant noodles to provide them with more nutrition and variation. Overall, it is clear that Indonesians love instant noodles and will not be stopping consumption anytime soon.