Due to the pandemic, we see a rise in the number of people who would rather cook at home than eating out. To understand customers' habits in relation to cooking at home, we did a research focusing on 21-26 year olds, private company employees and university students who enjoys cooking at home. 50% of the respondents choose dinner at their chosen time to cook. 56.7% of them also cook for themselves rather than for their family. 36.4% of the respondents have the monthly income of IDR 5.000.000.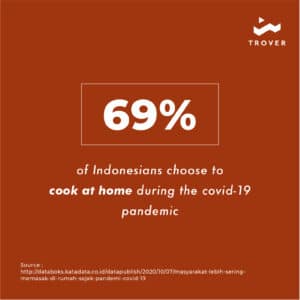 Cooking is the new normal
Cooking has become part of the respondents' habit. 50% of them say that they often cook dinner compared to the other meals. They also usually cook for themselves. Due to practicality, 76.7% of them choose to cook simple and quick ingredients such as frozen foods or fried food such as fried tempe or fried tofu.
Simple recipe is their choice of food
Oftentimes, consumers try to mix their food and find new recipes to make eating and cooking at home more enjoyable. Overwhelmingly (96.7%), our respondents find new recipes through Youtube videos.
Despite going online to find guidance, it does not mean that everyone follows it thoroughly. Half of the respondents admit that they do not always follow the recipes exactly the way it is written in the recipe while the other half do.
What about the spices? 50% of the respondents admit that they use instant seasonings due to its ease and practicality. However, the other half choose to challenge themselves and create their own seasonings from scratch. Interestingly, the majority of our respondents seem to enjoy cooking as they do not see it as a hassle to just cook every time they want to eat. Meanwhile, the rest would rather cook their meal once for the whole day.
Why do they choose to cook at home?
53.3% of respondents choose to cook at home to save more money. Meanwhile 26.7% choose to cook at home to ensure hygiene and health. The majority of our respondents say that they only spend IDR 50.000 – IDR 150.000 to buy seasoning ingredients per month. This shows that they can save a lot by cooking at home. Not only for daily activities, 60% of our respondents also say that they would rather cook at home for special occasions to make it more special.
Conclusion
It seems like cooking is the new normal for many young professionals. Not only to ensure hygiene and health elements, cooking at home can also help to save money. Given that more and more young professionals choose to cook at home, this opens an opportunity for brands to offer products that can help make their cooking experience simple yet enjoyable.