Many types of sauces can be used for cooking. one of which is oyster sauce. Oyster sauce is an additional seasoning usually used to cook various dishes in Indonesia. To further understand cooking behavior, we did research that focused on cooking behavior and its creation.
Cooking Behavior with oyster sauce
Oyster sauce is a Chinese cooking spice made from oysters that are widely known in Indonesia. Many Indonesians buy and use oyster sauce as a seasoning for cooking. Although all oyster sauces look the same, it turns out that each sauce is different
According to research, 45.2% of the respondents choose oyster sauce based on the brand, and 35.5% of the respondents choose it based on taste. Although it looks the same, every brand of oyster sauce has a different taste. Some have a strong salty taste, and some have a refreshing sweet taste. for Brand, 33.5% of respondents chose the Lee Kum Kee brand as the most purchased brand choice.
Not only that, 77.4% of respondents always stock oyster sauce at home for cooking. 38.7% of them stock oyster sauce with medium bottle size.
Many people stock oyster sauce at home because Many Indonesian people use oyster sauce in their daily cooking. For cooking, 71% of the respondents often use the oyster sauce to make Chinese food, and 48.4% choose to cook Indonesian food.
Oyster sauce is suitable to be added to various dishes. Oyster sauce can be used as a condiment for various dishes.
77.4% of Indonesians most often use oyster sauce as an additional seasoning in cooking food such as meat (chicken, beef, etc.). Another 77.4% for cooking vegetables, and also another 51.6% choose oyster sauce as a condiment in cooking seafood.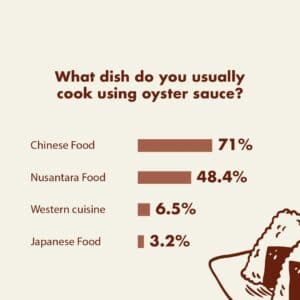 Cooking ideas inspiration
Meanwhile, social media is currently growing. Social media is not only a platform for meeting and greeting each other. But also a platform for sources of ideas and inspiration, including cooking inspiration. 83.9% of respondents said they are always trying to make new recipes and are always looking for inspiration to make new recipes.
There are many platforms on social media to find cooking inspiration. For inspiration, social media is their go-to-Place for new recipes to try. 64.5% of the inspiration comes from Youtube, followed by Instagram Recipes (23.1%) and Cookpad & TikTok (3.8%).
In addition, various platforms on social media also provide different content. For cooking content, 50% of respondents liked short videos such as Instagram Reel, TikTok, followed by Cooking Recipe Videos on Youtube (43.3%), and Food Recipe Photos (7.7%)
Conclusion
Whatever the dish, oyster sauce is still a choice of seasoning that is widely used for cooking. Because it tastes good, it is not surprising that many still choose oyster sauce as the main seasoning for cooking. It's also interesting to see that people are trying to be creative with their cooking by looking for ideas and inspiration for their cooking through social media. Overall, it's clear that Indonesians love oyster sauce and will not stop using it any time soon.